Mysterious and Intriguing Collage Art | Javier Martinez
|
The Artist Javier Martinez takes old illustrations that fuses with color, lines and irony to create this absorbent and unique collage artworks.
---
Redacción/ Escrito por Javier Martínez Autogiro Arte Actual  / Check this other sites: Tinta(a )Diario / Crónicaurbana el blog /  CrónicaUrbana  /  Catálogos de arte /  Cultural Auction Items | Visit [a] Autogiro Facebook for more news
---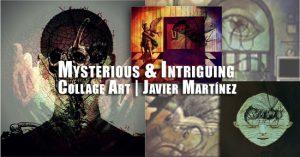 The artist Javier Martínez has created works since the late eighties when he studied at the School of Fine Arts of Puerto Rico (EAP). His visual interests range from comics, illustration, film and printmaking.
In the nineties he created digital pieces that were presented in his personal exhibitions as well as in collective exhibitions such as the San Juan Biennial of Latin American Engraving where he is a pioneer in presenting digital art.
His paintings of this decade merged transfers of photocopies to paper or canvas to create complex compositions that using colors close to the earth and oxides gave nostalgic sensations or found relics, those old photos in our books.
The artist who aspires to communicate in various disciplines, develops since 20 years ago, print and digital projects related to art and culture. In 2015 he enthusiastically joined the Instagram network and since then his visual production has reached thousands of works made with a varied register that includes humor, caricature, poetry and short stories as well as the series that today we review where they merge old illustrations with his current fine art vision.
Enjoy these art works and if you want to know even more visit the artist's page at: Javier Martinez Arte | Instagram
---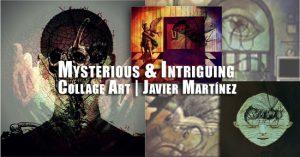 El artista Javier Martínez ha creado obras desde finales de la década del ochenta cuando estudiaba en la Escuela de Artes Plásticas de Puerto Rico (EAP).  Sus intereses visuales van desde el cómic, la ilustración, el cine y el grabado.
En la década del noventa creaba piezas digitales que se presentaban en sus exhibiciones personales así  como en muestras colectivas como la Bienal de San Juan del Grabado Latinoamericano donde es un pionero en presentar arte digital.
Sus pinturas de esta década fusionaron transferencias de fotocopias al papel o canvas para crear composiciones complejas que utilizando colores cercanos a la tierra y óxidos daban sensaciones de nostalgia o reliquias encontradas, esas fotos antiguas en nuestros libros.
El artista que aspira a comunicarse en variadas disciplinas, desarrolla ya hace 20 años, proyectos impresos y digitales relacionados al arte y la cultura. En el 2015 se integra entusiastamente a la red Instagram y desde ese momento su produccion visual ha alcanzado miles de obras realizadas con un registro variado que incluye el humor, la caricatura, la poesía e historias cortas así como la serie que hoy reseñamos donde se fusionan ilustraciones antiguas con su visión plástica vigente.
Disfruta estas piezas y si deseas conocer aun mas visita la pagina del artista en : Javier Martinez Arte | Instagram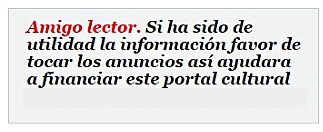 ---
Se pueden incluir imágenes de perfiles en Facebook, la red y otros medios. son utilizadas para ampliar la experiencia del lector. Citamos sus procedencia.  Cualquier inconveniente con el contenido se verificará inmediatamente. Comuniquese a: Artegiro[arroba]gmail.com
---
Javier Martínez  es artista multidisciplinario de Puerto Rico |  Behance / Tumblr